How To Build A Multimillion Dollar Action Plan
A sequenced action plan that will educate you and help you get to millionaire status in 3-5 years.
Before you go any further, here's a quick background on myself, Loral Langemeier, and the work we do at Integrated Wealth Systems:
I became a millionaire as a single mother at the age of 34 years old (while pregnant with my first child, I might add), and I know that financial abundance is available to everyone – you just have to be around the right people.
My team and I are experts in the areas of finance, including mentoring & coaching, real estate investment, business acquisition & development, and gas & oil and so much more.
I've been a frequent guest on business finance for networks such as CNN, CNBC, The Street TV, INC., Fox News Channel, as well as Dr. Phil and the View.
Integrated Wealth Systems has been serving lives for two decades and the primary mission of our organization is to put you in conversation with other wealth-builders – people who have done what you want to do.
Because when you surround yourself with experts and mentors in the field, you learn what really works.
My team and I have been building a worldwide community of in-the-field experts and mentors who are actively building wealth through businesses, real estate, and a wide range of alternative assets.
It's this community and the education on assets that sets us apart from any other business or wealth education. Including those you'll find at universities or through private mentorship.
It's our primary goal to teach you how to MAKE more money, how to KEEP it and INVEST it – all the while building a TEAM. There is no such thing as self made millioniares but team made millioniares.
I'm so passionate about money because most people do it wrong.
When it comes to money, most people focus solely on income and expenses. Whether their money is coming from a job or an entrepreneurial venture, there's no plan in place for consistent wealth-building.
The problem with this focus is that without a specific, strategic and long-term wealth-building plan, (including a corporate business structure and allocation of money into wealth-cycle investments), building wealth just won't happen.
And that's why you're here – to get high-level education and training on wealth strategies that have been used by millionaires before you, millionaires now, and millionaires to come.
Being a millionaire is not a luck of the draw – it truly just takes a system and people who can guide you there.
My team and I look forward to helping you grow in your financial journey.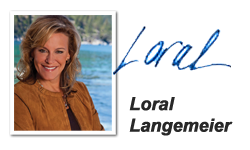 2 Tickets to The Millionaire Maker Meetup & Mastermind - Mastermind Style - Taught LIVE with Loral Langemeier and her Expert Team. Online via ZOOM. Next event is November 11-12, 2021 OR December 2-3, 2021




Coaching Access: [Three Fast Cash Coaching Calls] A Week until Millionaire Maker Meetup & Mastermind attendance.

Masterclass - Instant Access: Expression of Your Power with Loral Langemeier & Bob Proctor

Masterclass - Instant Access: Building, Leading, & Protecting Your Business Online Course

Masterclass - Instant Access: Building Your Wealth Cycles Online Course

Masterclass - Instant Access: Real Estate as Leverage. [Strategy & Planning Online Course.]

iFlip – The Smartest and Safest Way To Invest In Your Future. A.I. SmartFolios use machine learning back-end technology to drive & manage stock investments. Unlike humans, SmartFolios never sleep and are always driving for you.